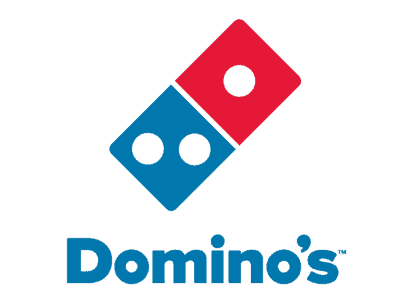 Discount Codes and Deals for Domino's Pizza Delivery in Ireland
About Domino's Pizza
Dominos codes and vouchers for ordering pizza delivery to your home. Domino's Pizza is Ireland's leading pizza delivery company. There are 48 pizza stores in the Republic of Ireland offering takeaway or delivery. Since the first store Irish Domino's opened in Rathmines, there are now stores in Dublin, Cork, Galway, Waterford and across the country. Over 3 million orders are fulfilled a year by the food company. Domino's Pizza have a passion for delivering hot fresh pizzas and their goal is to be the best pizza delivery company in the world.
Dominos Menu
The menu offers a large food and drink selection. The choice of speciality pizzas includes the cheese and tomato margherita, Texas barbeque, mighty meaty, vegitarian supreme, Hawaiian, New Yorker, the Sizzler, Milano and more. Create your own pizza by choosing a size from personal to large, and a crust from the classic crust, Italian style or thin and crispy base. Add mozzarella or reduced fat cheese along with either Domino's own sauce, BBQ or sundried tomato and garlic sauce. Finally, decide what toppings with eradicate your hunger from the list including onions, peppers, mushrooms, pepperoni, tuna, goats cheese and other options.
Side dishes complement your main course. Choose from sides including chicken strippers, chicken wings, Italian garlic bread, fresh rocket, nachos, potato wedges side orders including garlic bread or wedges and twisted dough balls. Quech your thirst with soft drinks such as coca-cola. To finish you dinner, why not add a dessert such as Ben & Jerrys ice cream or cookies.
Dominos Online Order
Order your Dominos online for convenience combined with a choice of value meal deals and current discount codes. To order, enter your address. Choose from delivery or takeaway collection options. View the menu and meal deals for your local Dominos store. Select what food, drinks, pizza, toppings, sides and desserts to eat. Add your order to the basket. Enter the Dominos voucher code for savings on lunch, dinner or snacks. Checkout with payment online by credit/debit card, or pay cash on delivery. An automated email with a receipt will arrive. You can then track what stage your delivery is at from preparation to cooking and onwards onto the journey.
Takeaway Locations
88/90 Lower Rathmines Road, Dublin, Dublin 6.
Unit 2 Tesco Shopping Centre, Lucan
15 Main Street, Clonee
4 Dublin Road, Swords
Unit 134 The Square, Tallaght
2 Roseville Terrace, Dundrum
178 Crumlin Road, Dublin 12
101a New Cabra Road, Dublin 7
129 St Peters Road, Walkinstown
Unit 1 Kish House, Raheny
2 Kilmore Road, Artane
8 Woodbine Park, Booterstown
Unit 5 Laurel Lodge Shopping Centre, Castleknock
Unit 8 Glenageary Shopping Centre, Glenageary
88/90 Lower Rathmines Road, Rathmines
Unit 1 Sarsfield House, Balbriggan
106 Upper Drumcondra Road, Drumcondra
Unit 6 Tower Shopping Centre, Clondalkin
15 Main Street, Clonee
Douglas Village, Douglas
Unit 4 Moremiles Retail Centre, Blackpool
Parsons Quay, Ennis
Unit 1 Castle Hill Centre, Carlow Town
Unit B 74 Seamus Quirke Road, Galway
16 Prospect Hill, Galway City
1 & 2 Station Point, Sallins
Unit 2 Green Street Commercial Centre, Kilkenny
Unit 1 Carraig House, Tralee
Unit 8 The Courtyard, Killarney
58 Mary Street, Drogheda
Unit 1 Adelphi Centre, Dundalk
56-57 The Orchards, Castletroy
2 Mount Kenneth Place, Limerick City
Unit 8 Kilegland Crescent, Ashbourne
10 Castle Street, Mullingar
Unit 1 Stephens Place, Castlebar
Unit E Main Street, Tullamore
Unit 2 Cashel Road, Clonmel
Park Road, Waterford City
Unit 1 Boithrin Al Mhuilinn, Dungarvan
Unit 10 Kilmartin Retail Park, Athlone
Unit 11 Boghall Shopping Centre, Bray
Unit 2 Ground Floor, Wexford
Unit 2 The Avenue Shopping Centre, Gorey
Pearse Road, Letterkenny
Unit 2 Block A, Navan
8-10 West End Main Street, Ballincollig
€10 off Domino's promo code
Offer is expired. Get €10 off when you spend €30 or more with promo code EXXMBSDF. Only valid at selected stores stores only. 
Domino's Reviews
Average Rating 4 Stars
22/11/2016
5 stars
Georgina w
My partner and I get a weekly treat from dominos, food is always hot and tasty, the staff in tullamore are so helpful and patient, last order was from a guy called john, so so nice he made me feel at ease on the phone. My only complaint is the tullamore store no longer has spinach?? Please bring it back
12/12/2014 17:10 12/12/2014 17:10
5 stars
alex
the best pizza 🙂
12/12/2014 16:54 12/12/2014 16:54
Ola
5 stars
26/11/2013 12:17
Jeremy
1 star
Very over-priced. A pizza costs about 85cent to make so imagine the profits these gougers are making.