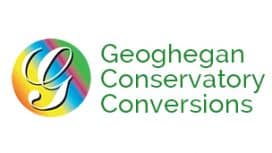 Geoghegan Conservatory Conversions Coupons
Home Improvement Vouchers for Nationwide Conservatory Roof Conversions, Doors and Windows
Address
12 Lower Hatch Street, Dublin 2.
About Geoghegan Conservatory Conversions
Is your conservatory too hot in the Summer and too cold in the Winter? Geoghegan Conservatory Conversions Ireland vouchers for fabricating conservatory roofs to replace glass roof with a solid roof. For over 15 years, our roof system is being used to change the look and feel of your conservatory to a solid roof sunroom with improved insulation allowing you to use the space all year round. A solid roof system is installed onto re-enforced window frames with a variety of roof styles available from Edwardian, Victorian, Lean-To, Gable Ended, or Combination. We also offer energy efficient windows in a variety of colours, along with durable secure wooden and PVC doors at discounted prices. Geoghegan Conservatory Conversions are building control approved. We won the award for the best stand at the ideal home show 2013. Save €500 with our home improvement vouchers and coupons with installation provided across Ireland. Call today for a free quotation.
€250 OFF WITH VOUCHER IF SPEND €6,000 OR MORE
Buy one opening roof window, get one free opening roof window worth €450 when you order a roof conversion
FREE €300 INTERNAL DOWN LIGHTERS WHEN ORDER A ROOF CONVERSION
FREE FITTING OF CUSTOMERS OWN MULTI-FUEL STOVE WHEN ORDER ROOF CONVERSION
Reviews Geoghegan Conservatory Conversions
Average Rating 3 Stars
10/07/2020 06:31
5 stars
S Jackson
Converted conservatory into usable room all year. Excellent.
09/07/2020 09:53
1 star
Elizabeth
We also got a sunroom with Geoghegan and it leaked there motto should be free leaky room with every sunroom. Terrible company they should be ashamed also that's.
08/05/2020 14:26
1 star
Bob
This company took 30.000 euro for my extension, they left the man hole in the extension, the extension has now been condemed and has to be demolished.geoghegans are a ruthless and evil company DO NOT USE
01/11/2019 16:37
Tom
We contacted the Glen of the Downs office in Co. Wicklow and got a roof conversion done July 2018. Workers were nice lads and did a good job. Unfortunately it started to leak! After contacting them they now won't answer the phone or return calls! Their customer service is non excistent! Wouldn't recommend them!
16/08/2019 10:04
1 star
Kristina Gegenbauer
We got our conservatory roof, doors and windows with this crowd last year- three active leaks so far and counting. I have made them aware of the latest ones 6 weeks ago and it is impossible to get them out to even inspect. The recent downpours have caused the walls to stain- we have now black and brown mould in three places and I'm on the phone with them almost daily to get an appointment. Two appointments were given which resulted in no shows so far. Be aware of this if you do decide to go with them, we are regretting our choice bitterly.
28/02/2018 18:45
5 stars
Brendan
It was a pleasure doing business with your company. The lads got the job done over the last two days and all are thoroughly professional and courteous. PS: there's now almost a foot of snow on the roof, so it's passed its first stress test with flying colours !! Would highly recommend Geoghan Conservatory Conversions
30/05/2017 11:41
5 stars
Kevin Corcoran
Had roof done about three months and have to say work is excellent,the team arrived promptly and I have to say I never had workers in my home before who where so good.i would highly recommend geoghegan conservatory to all friends and family,thank you Kevin Corcoran Dublin.
29/05/2017 21:33
5 stars
ambrose
I had my conservatory roof conversion done by Geoghegan Conservatories in April 2017. I am really pleased with the finished product. The workers arrived exactly on time and completed it within the agreed time. The quality of the workmanship wasvery good. I have already recommended Geoghegan Conservatories to a number of my neighbours and I would have no hesitation recommending this to any one interested in getting their conservatory converted.
25/05/2017 15:24
5 stars
Charlie Smith
We are delighted with the new roof that Geoghegans put on our 10 year old conservatory. Even in this the hottest day of the year we can sit comfortably in it and when we come down first thing in the morning it is still warm enough to go in to it. The work team were excellent, worked hard, were very polite and totally cleared everything up before they left. All done in two days. Would definitely recommend them.
27/02/2017 11:04
5 stars
Gene and Mick
A roof was put on our existing conservatory in last couple of years with wonderful results. Room is usable all year round so really happy. Since then we even managed to take out the sliding door that divided kitchen and conservatory to open up the space even more.
11/02/2017 08:10
1 star
Patrick
Cheap and nasty. Very bad communication once parted with money. Would not recommend.
11/02/2017 08:04
1 star
Phillip
Asked for more money once job had started. Failed building control. Wont answer phone. Been told rep has left so nothing i can do.
24/11/2014 13:02
5 stars Pat Hughes
Fantastic job. Absolutely delighted with the end result. Conversion was in Co Clare and the distance was not an issue. Job was started on the scheduled date and completed in just 2 days. The finish was to a very high standard and the work was carried out by 1st Class tradesmen. I would highly recommend this company.
20/11/2014 15:29
1 star
neil
do not use this company. after some delays with building control which geoghegan worked well to sort out work finally started on my full build conservatory. after many delays days where no work was done phone calls and complaints the work was eventually finished. it is on the whole a good job BUT it is the small things that make the difference. some repointing had to be done silicone on the windows had to be redone after it started to discolour several gutter clips came off and had to be replaced. the gutter clip that has been replaced has been held on with 4 screws as it was not the correct fit. another clip is still waiting to be fixed which is causing a constant drip from the gutter. I have rang the office numerous time, emailed also rang and texted Brendan. all with no joy. when on the day the initial work was finished they had expected me to have full amount ready and waiting. as I had previously had so many days of no worker turning up I thought I was unreasonable to have thousands of pounds sitting around. for a company which claims to be so big they are quite aggressive in their money collecting. I had to badger and phone and complain to get the smallest job fixed I have now been waiting months to have a simple gutter clip fixed but after screws were used to fix the other one maybe I would be better off with out. the worst thing is the after care and customer service it is just so bad once they get your money they don't care. maybe the old saying is right buy cheap pay twice.
22/10/2014 12:16
5 stars
Noel &Caroline O'Regan
We had our conservatory converted by Geoghegan Conservatory Conversions last year, since then we have been using the room all year round because of the cosiness and comfort. No more sweltering days in the summer, and lovely comfortable autumn and winter evenings. So it is really getting a lot more use than all the previous years since we have the conservatory. I must congratulate your Company on an excellent job well done! It was started and finished within 4 days without very little disruption to us. Thanks to 'Big Jim' and his great crew! Noel & Caroline O'Regan Co. Kilkenny